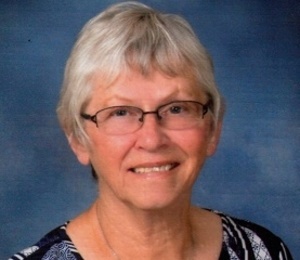 Vickie J. Glass, 74, passed away at 2:47 am on February 3, 2018 at Good Samaritan Hospital with family and friends by her side. Vickie was born in Fort Stockton, TX on February 3, 1944 the daughter of Robert and Dorothy (Bovenschen) Ueding. Vickie married William Gene Glass on June 6, 1964 and he preceded her in death on June 2, 1993.
Vickie was a member of Old Cathedral Catholic Church and worked at Lydia's where she was affectionately known as the fudge maker. She also worked for Southwest Youth Village, where she had a heart for everyone there and loved her job. Vickie was a huge sports fan and loved the Cardinals, Colts, IU, and the Lincoln Alice's. She was very thoughtful, loved life and the people she was around to the fullest. Vickie's unwavering devotion and dedication to her family and friends were second to none. She had a heart of pure gold, and her children, husband, friends and pets were the absolute lights of her life. We are comforted in knowing she is reuniting with her husband in heaven.
Survivors include her son, Bradley G. Glass of Chicago, Lori J. Glass of Evansville; her cats, Lilly and Daisy, granddog, Boon; Sister, Linda Thompson and her husband Tommy of Oaktown, brother, Robert "BJ" Ueding and his wife Kim of Nakomis, FL. Sister, Charla Patton of Bicknell; best friend, Sandy Smith and the Rose Buds; nieces, Tammy Howell and her husband Brad, Colleen Uva and her husband Bill, Angie Goff and her husband Terry, nephews, Tommy "T" Thompson and his wife Teresa, Christopher Ueding and his wife Bailey, Brian Patton; great nieces and nephews, Nicholas Blubaum, Leah Wittmer, Tommy "Lil T" Thompson, Hannah Summers, Jacob Howell, Bailey Goff, Holly Thompson,  Ava, Jonah, Hunter Bug, Brayden, Ivy, Harper, and many-many more that called her Aunt Vickie. Vickie was preceded in death by her parents, Robert and Dorothy Ueding, and her husband William Gene Glass.
Friends may visit with Vickie's family on Wednesday, February 7, 2018 from 3-8 pm at Goodwin Funeral Home, 524 Broadway. A Mass of Christian Burial will be held at 10:30 am on Thursday, February 8, 2018 at Old Cathedral Catholic Church with Rev. Simon Natha celebrating. Interment will follow in Memorial Park Cemetery.  In lieu of flowers contributions may be made to the Knox County Humane Society or Cystic Fibrosis.  Goodwin Funeral Home is honored to assist Vickie's family with arrangements.