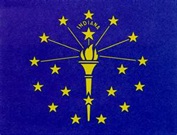 TERRE HAUTE, Ind. (AP) — An Indiana man who was ticketed after making a crude gesture at a state police trooper has filed a federal lawsuit, alleging his constitutional rights were violated.
The lawsuit alleged May waved his middle finger at trooper Matt Ames on Aug. 21, 2017, because he was cut off while Ames pulled over another motorist. May was issued a "provocation" ticket after the action, according to the lawsuit.
According to the Indiana Criminal Code, the ticket, which carries a fine of up to $500, is issued when "a person who recklessly, knowingly, or intentionally engages in conduct that is likely to provoke a reasonable person to commit battery commits provocation."
But Kenneth Falk, legal director of the American Civil Liberties Union of Indiana, argued that May's gesture to Ames was expressive conduct fully protected by the First Amendment to the U.S. Constitution.
"While perhaps ill advised, Mr. May's gesture, which in no way interfered with the Master Trooper's lawful activities, was fully protected by the First Amendment," Falk said.
Falk added that the trooper "had no cause whatsoever to initiate the stop."
The Indiana State Police didn't immediately return the newspaper's request for comment.
WRAPS: Encouraging numbers from Indiana State Police. Kurt Darling reports…
INDIANAPOLIS (AP) — State health officials say the number of flu-related deaths in Indiana this season reached 136 last week, up from 107 the previous week.
The Indiana State Department of Health said Friday in its weekly influenza report for the period ending Jan. 27 that 102 of the deaths have occurred among people age 65 or older and 23 have been in the 50-64 age group.
Eight deaths have occurred in the 25-49 age group and three in the 5-24 age group.
The weekly report lists counties with five or more flu deaths. Thirteen have occurred in Marion County, nine each in Hamilton and Allen counties and six each in Shelby and St. Joseph counties.
INDIANAPOLIS (AP) — Newly released federal figures show a sharp rise in child abuse fatalities in the U.S., with the bulk of the increase occurring in two states — Indiana and Texas — where child-welfare agencies have been in disarray.
According to a report released this week by the Department of Health and Human Services, there were 1,700 fatalities resulting from child maltreatment reported in fiscal year 2016, compared to 1,589 the previous year — a 7 percent increase. The figures encompass data from every state but Maine, as well as from the District of Columbia and Puerto Rico.
Accounting for most of the increase were Texas, where fatalities jumped from 162 to 217, and Indiana, where the death toll more than doubled from 34 to 70.
Long festering problems in Indiana's child welfare system exploded into public view in December, when the director of the Department of Child Services resigned with a scathing letter that accused Republican Gov. Eric Holcomb of making management changes and service cuts that "all but ensure children will die."
Holcomb launched a review in December. A preliminary report released Thursday found the state has an inadequate case management system.