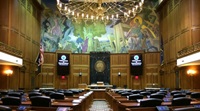 (NETWORK INDIANA)  One legislator has an unusual idea for redistricting reform: give Indiana twice as many state House members:
South Bend Representative Ryan Dvorak has introduced a constitutional amendment to double the size of the House from 100 legislators to 200. That would make it the third-largest state legislative chamber in the country. Dvorak argues the smaller the districts, the harder they'd be to gerrymander. And he says House districts have twice as many people as they did after World War Two.
So far, the proposal hasn't been scheduled for a hearing. It's dead for the year if it's not discussed by Tuesday.