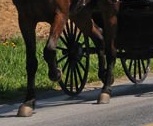 Paving on county roads will be put on hold for a time while county officials wrestle with the problem of damage being caused by horseshoes to roads in the Amish country.  Today's  Washington Times Herald  quotes Daviess County Board of Commissioners President Nathan Gabhart saying, "We need to get a solution to the issue."  Gabhart pointed out the county is spending a lot of money on road repairs and he wants to make sure it is being spent in the best spots. 
Previously there has been some talk about using rubber horse shoes but County Highway Superintendent Phil Cornelius told the time Herald that option was rejected by the Amish community. 
Meanwhile, horseshoe makers think they may have found a solution in a shoe with more surface area that spreads the impact. 
The problem is not limited to Daviess County.  At least 14 counties in the state are also affected as are counties in Ohio and Pennsylvania.
Gabhart hopes the Amish Community will be able to create their own solution and come back to the county with it.  No ultimatums have been issued Gabhart said.  We just have to make sure we are investing tax dollars with the best return we can get."