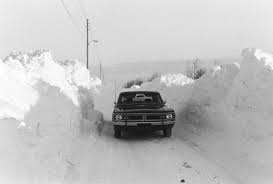 Forty years ago, on Jan. 25, 1978, one the only true blizzard in a lifetime hit Indiana. It brought 15 inches of snow and wind chills of 50 below zero. People were stuck in their houses for days and some were out of school or off work for weeks.
"We've had plenty of other snows in different parts of Indiana that had nearly as much snow. But, it was not the long, sustained wind," said Eric Zimmerman, who was in high school when the blizzard hit, but later became a forecaster with the National Weather Service.
"We had 50 mph winds for over a day. Maybe 24, almost 48 hours," he said. He remembers snow up to the roof and a front end loader being bombarded with snow that caved in on top of it when the driver tried to help clear some of the snow off of his street.
And, in the midst of the legendary storm, many more stories were born.
"There was a hill just down the way, by a junk yard," said Keith Johnson, who lived in Loogootee. "It was like a ski slope. It was just packed with great snow, feet of snow. Us and the kids out there, we got our flat bottom toboggans out and ramped down this thing and out across and into the highway-with no worries because there was no one across the highway."
Though not all places in Indiana got an equal amount of snow, the highest amount recorded was 15 inches. Al Shipe, a hydrologist with the National Weather Service office for over 40 years, said it was impossible to get an accurate measurement of the snow because of the drifting.
"Contrary to the myth that says there's a population boon after nine months because everyone's stuck at home, the day of the 26th, anything about romantic activities was the furthest thing from my mind," said Shipe, remembering putting paper in the cracks in his garage.
"The wind was blowing constantly at least 35 mph, gusting to 55 at times," said Shipe.
"Back in 1978 they relied on local radio for weather information, school closings, factory closings, all that kind of thing," said Gene Kuntz, with WITZ, who was a night time announcer there, and who camped at the radio station to bring people that information.
At WIBC in Indianapolis, Gary Todd and Fred Heckman, the morning host and news director, kept wall to wall coverage going.
The wind and snow kept police busy while the blizzard was still happening, trying to make sure people were not dying in the many abandoned cars left on the streets in Indianapolis. After the storm was over, many of those cars got tickets and then police had to deal with burglaries.
"Is it easy to catch them in this cold weather, or what?" asked a WIBC reporter, on one of several archive tapes. "Not really because our response times are down so far," replied a policeman.
Another reporter caught up with an ambulance crew that was stuck while on an overdose call.
"You guys get stuck that often?" asked the reporter. "Oh, Christ, yes," said the driver, as the wheels whirred. "How many of these runs have you had on this shift, so far (meaning overdoses)?" "Lots," was the response.
After weeks under snow things got back to normal in Indiana. Seventy people died as the storm moved east into Ohio, New England and the east coast.
"*It had an impact on me because I'm always ready for a weeks worth of whatever could come," said James, of Ft. Wayne. "Before then if you said there was snow coming, people really didn't do a bunch of stuff. I think after that storm you kind of saw a change. You'll get people along my age, 50s, 40s, 60s, say oh yeah, we've got snow coming, and they'll bu8m rush the grocery stores. They'll clear the place out."
People were somewhat prepared then. But, Bradley Thatcher, director of response for the Indiana Dept. of Homeland Security, said you will likely be warned a whole lot quicker and with more accuracy.
"With the advent of smart phones, people can get forecasts and they can get weather emergency alerts 24 hours a day, with them, wherever they are at," he said.
For some Hoosiers the best part of the blizzard wasn't the winter wonderland, but seeing neighbors helping one another.
"It was amazing how when we'd go out to do some stories, people would be out there helping their neighbors. I think it led to a feeling about living here that has remained with us, that this is a great place to be, to live," said Lee Giles, former news director at WISH-TV.
"If your neighbor's in trouble you go and help them. You'd see kids out trying to shovel snow," said Bill Ludlow, a volunteer firefighter in Lawrence, at the time. "People were taking sleds, trying to get to the grocery store to bring groceries back."
The Blizzard of '78 may have taught Indiana many lessons: nature can be ferocious and beautiful at the same time. It can show humans their place on the planet. But, people can endure, and people are able to show the good that inhabits their shell against the cold, wild winter.