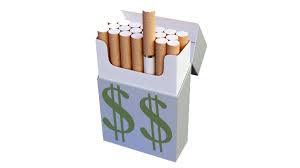 (NETWORK INDIANA)  You could be paying more for your cigarettes, if you smoke, and if the American Cancer Society and Tobacco-Free Indiana, get the General Assembly to pass a $1.50 raise on the state cigarette tax.
Though state lawmakers are not considering a budget this year (that happens every other year in Indiana), Bryan Hennon, chair of Tobacco-Free Indiana and a representative of the American Cancer Society, said he hopes legislators will consider the tax anyway.
"It's costing them money. Our smoking rate's higher than the national average," said Hennon, when asked about how smoking is affecting Hoosier employers. "We're really asking the state to be a full partner with these employers and help them reduce their health care costs and make their employees healthier."
Hennon said he believes an increase in the price for a pack of cigarettes would help encourage people to quit, though that has been disputed.
"The problem with Indiana is that we're coming down, we're just coming down a little bit slower than the national average."
He said some policies have worked, including a previous increase on the cigarette tax.
"We saw progress the last time we raised the cigarette tax. We saw a big decline in consumption, somewhere in the neighborhood of 40 percent," said Hennon.
Rep. Charlie Brown has written a bill (HB1380) that would raise the price of a pack of cigarettes by $2, and would also raise the age to buy smokes from 18 to 21.
"We're seeing about 5,700 kids every year in Indiana under the age of 18 are starting to smoke. And we know that over 90 percent of smokers started before the age of 21. So, if we can delay initiation, we 're really gonna see youth smoking rates start to drop," said Hennon. He said that would happen over time.
He said he believes the tax would have the most immediate impact.
"I think when we make the business case it helps lawmakers understand it's not just a personal health issue, it's also a workforce issue and an economic issue."