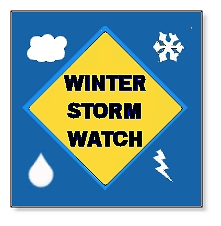 The first major winter event of the season for the region could happen tomorrow.  Daviess and surrounding counties are under a Winter Storm Watch which goes into effect at 1-am tomorrow morning and will last for 24 hours.    Currently it's only a Watch meaning, a weather event is not currently happening or on the way but that there is a chance for significant wintery weather based on temperature and other factors.
        Meteorologist Jesse Walker tells us that a cold front moves in tonight and the rain today can change to sleet and freezing rain tonight.  Low pressure will then come up along the cold front in the wee hours of tomorrow morning.
        Walker says the trouble time will be late tonight through Friday morning with again rain changing to sleet or freezing rain and then snow which will taper off. Those conditions if and when they occur will of course impact travel so prepare to take extra time and caution with your travel plans and daily commute over the next 24 hours.