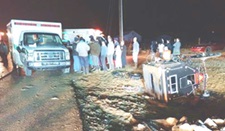 Monday night at approximately 8:27pm troopers from the Jasper Post responded to a two vehicle crash on County Road 900E at County Road 975N involving a Daviess County Ambulance (Southwest Medical) and a horse and buggy.
Preliminary investigation revealed that the ambulance was traveling south, on CR 900 E, with its emergency lights activated but no siren, transporting a patient to the hospital. As the ambulance approached CR 975N they met a line of horse and buggies also traveling south.  Travis Wagler, 19 of Odon, was driving the last buggy in the line.  Wagler did not see nor hear the ambulance when he began to turn his buggy left onto CR 975N.  The driver of the ambulance, Dawn Wagoner, 38, of Odon, did not have time to avoid the buggy and struck the left side of the buggy causing it to flip with the occupants still inside.
Wagler and one of the passengers received minor cuts and bruises, however a female occupant of the buggy was transported to the Daviess County Hospital for treatment of her injuries.  No one including the patient on board the ambulance was injured.
The ambulance had damage to the right front and the buggy had extensive damage.  The horse was dazed but not injured.
Assisting ISP at the scene was the Daviess County Sheriff's Department, Odon Town Marshall, Odon First Responders, Southwest Medical, and Wagler's Towing.
Investigating Officer:  Trooper Andrew Beaver