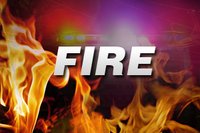 Just after noon Sunday, Sullivan County Deputies responded to a camper-trailer fire at 7557 East County Road 100 North.   
When deputies arrived they found the camper engulfed in flames.  According to the Sullivan County Sheriff's Department two people staying inside the camper woke up to heavy smoke.  29 year old Cara Vancil of Dugger was able to escape through the front door.  She was transported to the Greene County Hospital in Linton for treatment of smoke inhalation and abrasionis.  The male resident of the camper, 41 year old Justin Norris escaped through a window and was not injured.  However, Norris  was taken into custody on a Clay County warrant to revoke bond on a prior charge of dealing methamphetamine.
Authorities believe the fire was caused by a space heater overloading an extension cord.