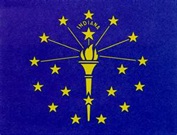 A group of Indiana health and business organizations are pushing for a repeal of some legal protections given to smokers. The Indianapolis Business Journal reports that the Alliance for a Healthier Indiana wants to get rid of state law that bans employers from screening job candidates for tobacco use.
The group supports a bill introduced by Republican Sen. Liz Brown of Fort Wayne to repeal the 1991 law. The measure would allow companies to require employees to stop using tobacco products, even when not on the clock.    Some Indiana employers complain that smokers raise their insurance costs.
The Indiana Chamber of Commerce says smoking is the only voluntary action that state law protects during the hiring process.
TERRE HAUTE, Ind. (AP) — A community initiative has revamped a western Indiana city's website in an effort to polish the area's image. The Tribune-Star reports that The Haute Initiative announced the improved terrehaute.com Tuesday as a measure to showcase the Terre Haute and Vigo County community's offerings to residents, college students and prospective businesses. The initiative aims to enhance the community's reputation and drive economic development by providing an online presence and video content.
INDIANAPOLIS (AP) — The chairman of an Indiana Senate committee that handles alcohol matters has scheduled a hearing for a bill to allow retail Sunday booze sales.
Republican Sen. Ron Alting, of Lafayette, says the measure will be heard Wednesday. He has also scheduled a hearing for Jan. 17 on a bill that would allow convenience and big-box stores to sell cold beer.
Convenience stores can sell cold wine and warm beer. But only package liquor stores and some restaurants can sell carryout cold beer.
Alting doesn't want to change the cold beer law. But he will give the bill a hearing for the first time because he says it's in the "best interest of the state."
The measure faces an uphill battle against entrenched interests. The Sunday sales bill has broader support.