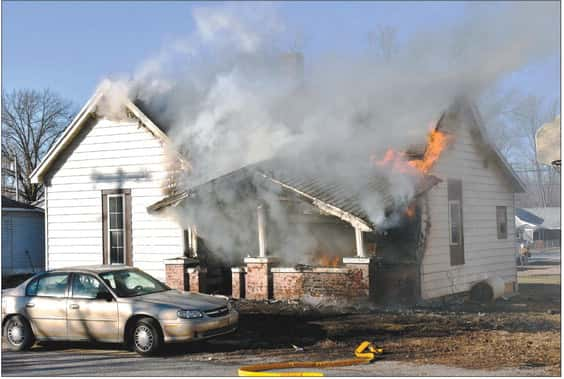 (photo from Washington Times Herald)  Washington police say a man they were rescuing from a burning home became combative.
          Washington Fire and Police responded to a 3:30-pm fire Tuesday at 1717 Vincennes Avenue.     Police were the first to get there and saw the porch totally engulfed.  
          Washington Police Detective Daniel Christie told the Washington Times Herald  an officer kicked in a back door as officers saw a man through a window in the home.  The man, identified in police reports as Kurt  Rhebik, refused to come out and officers struggled with him.  Herbik became combative and tried to pull himself back inside the home as he was being pulled out.  Officers used a Taser to subdue him and he was pulled from a window on the east side of the home and then hospitalized.  The police report also says a city officer was hospitalized for smoke inhalation.  It was also reported a dog was seen running from the home. 
          The house is owned by Debbie Bogart and Rhebik was the lone occupant.  Washington Fire Chief Dave Rhoads says 10 firefighters were on scene until 6:14-pm.  The cause is currently undetermined until the Chief can talk to Rhebik.  Rhoads reports gas was shut off to the residence, but the home did have electric service.  He added an alternative heat source was involved.