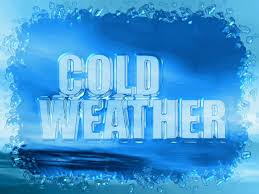 Special Weather Statement
National Weather Service Indianapolis IN


INZ051>057-060>065-067>072-301700-
Vigo-Clay-Owen-Morgan-Johnson-Shelby-Rush-Sullivan-Greene-Monroe-
Brown-Bartholomew-Decatur-Knox-Daviess-Martin-Lawrence-Jackson-
Jennings-
Including the cities of Terre Haute, Shelbyville, Bloomington,
Columbus, Vincennes, Bedford, and Seymour
400 AM EST Sat Dec 30 2017

...Cold Wind Chills Expected...

Cold Arctic air combined with breezy conditions this afternoon and
tonight will cause wind chills to drop to near ten below zero at
times. Conditions will improve Sunday by late morning, but will
get even colder late Sunday night and this will likely last
through midday Tuesday. Frost bite and hypothermia can occur if
precautions are not taken. Limit time outdoors and cover exposed
skin.

$$

CP



---
Hazardous Weather Outlook
Hazardous Weather Outlook
National Weather Service Indianapolis IN
551 AM EST Sat Dec 30 2017

INZ051>057-060>065-067>072-311100-
Vigo-Clay-Owen-Morgan-Johnson-Shelby-Rush-Sullivan-Greene-Monroe-
Brown-Bartholomew-Decatur-Knox-Daviess-Martin-Lawrence-Jackson-
Jennings-
Including the cities of Terre Haute, Shelbyville, Bloomington,
Columbus, Vincennes, Bedford, and Seymour
551 AM EST Sat Dec 30 2017

..Very cold air will be moving into the area through tonight...

This hazardous weather outlook is for central Indiana.

.DAY ONE...Today and Tonight.

Outlook: High pressure will be building into the northern Plains and
continue to spread cold Arctic air into the region tonight.

Hazards: Very cold air to near 0 degrees tonight with wind chills to
around -10 degrees expected.

Timing: this afternoon through tonight.

Discussion: Very cold Arctic air mass moving into the north central
Plains will continue spread southeast into the Ohio Valley tonight.
Look for temperatures to gradually fall today into the single digits.
Clearing skies and snow cover will combine to bring temperatures to
near 0 degrees by Sunday morning with wind chills around -10
degrees.



.DAYS TWO THROUGH SEVEN...Sunday through Friday.

Outlook: Very cold air will be in place over the area through
Tuesday.

Discussion: Very cold Arctic air will create high temperatures of 10
to 15 degrees Sunday and only 5-10 degrees on New Year`s Day. Low
temperatures for New Year`s Eve will be 0 to -5 degrees. Low
temperatures through the period will be in the single digits through
the period. High temperatures will be mostly in the teens and lower
20s.