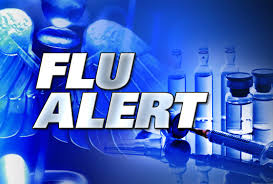 Daviess Community Hospital Implements Visitation Restrictions Due to Flu
In response to the increase in influenza cases nationwide and in the Tri-State area, Daviess Community Hospital is implementing hospital visitation restrictions effective Thursday, December 28th. . The restrictions include:
· No visitors with influenza-like symptoms in the hospitals. Symptoms include cough, sore throat, fever, chills, aches, runny or stuffy nose, and vomiting or diarrhea.
· No visitors under the age of 15.
· No visitors other than immediate family or other significant persons as defined by the patient
Visitors are encouraged to wash their hands frequently while in the hospital and wear protective face masks when instructed. Exceptions to these restrictions may be made for cases involving critically ill patients and end-of-life situations.
The flu can cause serious complications and even death, especially in the very young, the elderly, and those with certain existing medical conditions. These measures are being taken in an effort to protect patients, families, and hospital staff. We appreciate the community's understanding and cooperation.
Good Samaritan Asking Community to Refrain from Visiting Loved Ones in the Hospital
In addition to the colder weather that has arrived in the area, so has the flu. The Centers for Disease Control (CDC) has reported that several indicators used to measure flu activity were higher than typically seen during this time of year. An increased number of flu cases have been seen at Good Samaritan as well, and the hospital is encouraging everyone to take necessary precautions.
Widespread influenza activity has been reported by 23 states and Indiana is included. Flu activity for the state of Indiana has gone from minimal local activity to widespread activity throughout the state in the last ten days.
There are two influenza viruses circulating, the A (H3N2) virus appears to be dominating with the B virus following close behind. The A virus usually is more severe and has higher hospitalization and death rates associated with the virus. Good Samaritan is experiencing a high volume of patients presenting to the Emergency Room, the Convenient Care and their own physician offices with influenza-like symptoms and illness. There has also been a high-volume of inpatient admissions diagnosed with influenza that have developed complications associated with the illness (i.e. pneumonia, dehydration, etc.).
Good Samaritan is asking the public not to visit the hospital or the inpatient units if they are showing any signs of illness. Not only is Influenza circulating but also a gastroenteritis (stomach flu) virus is circulating within our area and the most common way to acquire both of these viruses is contact with an infected person.
"Children under the age of 16 are asked not to visit but if they must, a mask will be available for them to wear,' stated Robin McDonald, Infection/Prevention nurse at Good Samaritan. "Outpatients that are arriving for services that are experiencing influenza-like symptoms will be asked to wear a mask while in the physician offices, clinics, emergency room or the hospital."
While vaccine effectiveness can range from one flu season to the next; the recommendation from the CDC is to get your flu shot if you haven't already done so. A late vaccination is still beneficial in preventing the flu or minimizing the illness. Antiviral drugs are an important second line of defense that can be used to treat flu illness. The CDC recommends the use of antiviral drugs as early as
possible to treat flu illness in people who are very sick with flu and those at high risk of serious flu complications.
Tips to avoid the flu are:
• Avoid close contact with sick people.
• Stay home when you are sick.
• Cover your mouth and nose when coughing or sneezing.
• Clean your hands with soap and water or an alcohol-based hand rub.
• Avoid touching eyes, nose or mouth.
• Clean and disinfect frequently touched surfaces at home, school or
work.
• Get plenty of sleep, drink plenty of fluids and eat nutritious food.
To get more information about the flu and how you can keep your family healthy, visit  www.cdc.gov/flu.