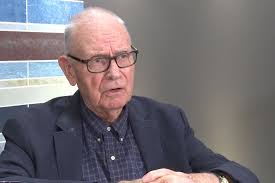 Former Indiana Congressman Lee Hamilton (D) says President Trump was correct when he said calling Jerusalem the capital of Israel is "a recognition of reality." But the onetime House Foreign Affairs chairman says the city's final status is the thorniest issue in a foreign policy puzzle that's full of them.  
          Five of Indiana's seven Republicans in the House issued statements hailing the announcement as an overdue declaration the strong U.S.-Israeli alliance. But Hamilton warns doing so shatters the U.S.'s longstanding effort to position itself as an "honest broker" in trying to bring about a permanent peace deal between Israel and the Palestinians. And Hamilton says the declaration raises the danger of increased violence.  
          Hamilton acknowledges nothing else has achieved Middle East peace, but he says his conversations with Palestinian leaders and others make him "extremely doubtful" the declaration will make the task easier. He says it'll take weeks to assess the impact.
          Hamilton writes op-ed pieces for, among other publications, the Washington Times- Herald.