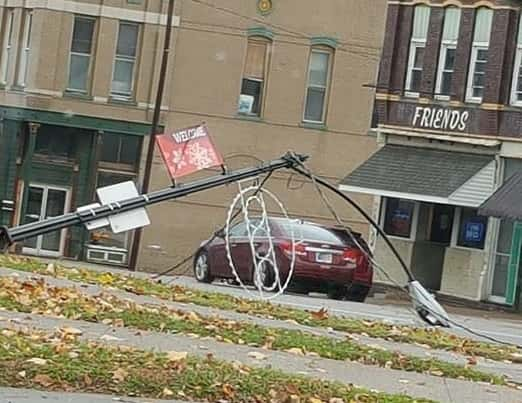 (photo of blown down Street Light in Petersburg this past weekend)
     Winds gusting more than 50 mph were recorded in the WAMW listening area.  A street light blew down in Petersburg.  There was no other damage or injuries.
        Elsewhere, a weak tornado touched down briefly near Lafayette. That storm packed winds as strong as 75 mph.  The National Weather Service says the EF-0 tornado touched down for about a minute Saturday morning near the Tippecanoe County town of Dayton. It traveled about half a mile, damaging a house and several trees.
      The weather service says straight-line winds estimated at 80-85 mph hit Frankfort in central Indiana, and Wal-Mart there was evacuated after its roof collapsed.