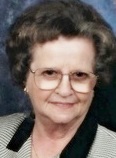 Dorothy Jean (Cox) Woodall, 92, of Oak Ridge, Tennesee, formerly of Petersburg, went to be with the Lord on Saturday, Nov. 11, 2017, at Patriot Park Assisted Living Facility in Oak Ridge.
Dorothy was a member of Algiers United Methodist Church. She is preceded in death by her husband, Daniel E. Woodall; parents, William Alvis Cox and Anna Stone Cox; and several siblings.
She is survived by her children and spouses, Gary and Larissa Woodall, Maureen and Stephen Bryant, Sherril and Kevin Carter; nine grandchildren, Andrea (Jason) Gravens, Stephanie (Justin) Rumble, Mark Ash, Michelle Ash, Misty (David) Bell, Angela (Carlton) Gray, Natalie Woodall (Adam Williamson), Lidiya Woodall and Dennis Woodall; 10 great-grandchildren, Lila Clare and Asher David Bell, Oliver and Gabriel Gray, James Bach and Joseph Cedar Williamson, Alena Woodall, Bailey and Mason Gravens, and Alyssa Rumble; siblings Randall (Violet) Cox, Wilma (Robert) Hardin; and many nieces and nephews.
The family will receive friends from 12:30 p.m. to 2 p.m. Wednesday, Nov. 15 at Harris Funeral Home in Petersburg, with funeral services at 2 p.m., followed by a procession to McClure Cemetery for graveside services.