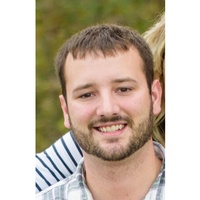 Kendall James Murphy, 27, of Montgomery, passed away while serving in his role as a volunteer firefighter Friday, November 10, 2017.
He was born May 10, 1990 in Vincennes, Indiana to Dwayne and Katrina (Lengacher) Murphy.
Kendall was a 2009 graduate of Barr-Reeve High School and a 2013 graduate of the University of Southern Indiana with a bachelors in Sports Management. He was employed by German American Bank as an insurance agent and employed part time at Country Oaks Golf Course. He coached basketball at Barr-Reeve High School and was starting his fifth season. Kendall was a two-year member of the Montgomery Volunteer Fire Department. He was an active member at Providence Mennonite Church. He loved the Kansas Jayhawks, Cincinnati Reds, Notre Dame and golf.
He was preceded in death by his maternal great-grandparents, Herman and Agnes Stoll and Menno and Lydia Lengacher and paternal great-grandparents, Brenda Milton and Fred and Loretta Murphy.
Kendall is survived by his fiancé, Jessica Padgett of Loogootee; parents, Dwayne and Katrina Murphy of Montgomery; sister, Kelsie (Eric) Miller of Washington; nieces, Emma and Halle Miller; maternal grandparents, Bert and Barbara Lengacher and paternal grandparents, Steve and Jean Murphy, all of Montgomery; uncles, Shawn Murphy of Montgomery and Rick (Jan) Lengacher of Goshen; aunt, Tenley (Nathan) Lester of Montgomery and many cousins.
Funeral services will be conducted at 11:00 a.m. on Tuesday, November 14, 2017 at Simon J. Graber Complex. Burial will follow in Providence Mennonite Cemetery.
Visitation will be held Monday, November 13, 2017 from 2:00 p.m. to 8:00 p.m. at Providence Mennonite Church.
In lieu of flowers memorial contributions may be made to the Barr-Reeve Scholarship Foundation.
Condolences may be made online at
Arrangements were provided by Blake & Wagler Funeral Home in Montgomery.