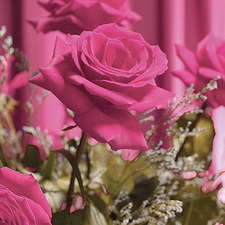 R. L. Wade, of Washington, IN, went to her Heavenly Home on October 18, 2017. She was born in Pittsburg, KS to DeLafayette and Ellen Alfreda (Wort) Smith. On August 10, 1962 she married the late Homer Dean Wade. Mrs. Wade was a Homemaker,
a Daycare Provider in Bethany, OK, and a former Salvation Army Officer in Wichita, KS and Grand Rapids, MI. She attended Trinity Gospel Tabernacle. She was a seamstress, and enjoyed sewing and baking. She loved taking care of her family. She was a supporter of missionaries and served as a minister's wife.
Mrs. Wade is survived by her children: Edie Overfield (Martin), Judith Totten (Greg); stepchildren: Louella Nethercot, Jeannie Martin, Stephen Wade (Peggy), Samuel Wade (Debra), and Max Wade (Sue); 18 grandchildren; and a host of great grandchildren. She is preceded in death by her husband, Homer Wade; parents; step-daughter: Bonnie Wade; siblings: brother Paul Smith, George Smith, Pearl Smith, Agnes Brown, and Martha Fitzgerald; and two step grandchildren Jonathan and Rachel Wade.
A Memorial Service will be held in Mrs. Wade's honor on Saturday, October 21, 2017 at 2pm at Trinity Gospel Tabernacle, 1600 State Street, Washington, IN 47501.. Online condolences maybe made at gillsince1872.com