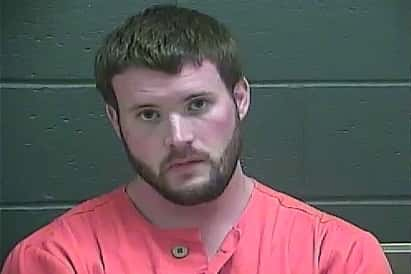 A man wanted for battery of a police officer refused to stop for Indiana State Police early Saturday, and ended up in jail anyway after taking troopers on a chase through a campground and into the Ohio River.
      State troopers tried to pull over Blake Hensley, 30, Saturday about 12:30 a.m., when he didn't stop at a stop sign. He didn't stop. When they ran his tag, they found out he was wanted in Warrick County. Hensley hit the gas.
       Troopers said Hensley hit a State Police car and kept going. Perry County deputies joined the chase as Hensley tore through a campground near Tobinsport. He drove through a soybean field and crashed into a pavillion. That didn't stop him.
When a trooper pulled in front of him, he ran off the road and ran over a road sign, came back up on the road and hit the troopers car….again.
       Stop sticks finally put Hensley's car out of commission, deflating his tires. That's when cops say he took off running into the Ohio River. And they had to tase him. He's now in the Perry County Jail.