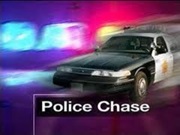 Police chased a Washington man after an accident late Friday night and when they caught him, a passing vehicle was stopped during the investigation and three others were arrested.
          It all started just before 11 when Washington Police were told an older model S-10 had left an accident at Circle K West.  Officers saw the truck on US 50 and attempted a stop but 38-year-old Joshua Bell took off north on Highway 257, then East on East National Highway and stopped near the roundabout on Gateway Drive.  He was taken into custody without incident and charged with Resisting Law Enforcement, Operating While Intoxicated/Refusal, Operating While Intoxicated with Endangerment and Leaving the Scene of a Property Damage Accident.
          As that investigation was going on, officers report they saw 31-year old Joshua Arnold in a passing vehicle.  Knowing he was wanted on a warrant, he was stopped and further investigation turned up meth and marijuana.  Arrested in that vehicle were Arnold on the warrant for Dissemination of Harmful Material to a Minor, 42-year-old Deanne Belcher for Possession of Marijuana and 29-year-old Whitney Abbot for Possession of Meth and Marijuana.