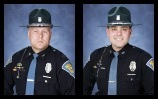 The Indiana State Police Post at Jasper as two new detectives.
        Senior Trooper Brock Werne and Trooper Josh Greer were promoted to Trooper Detective by State Police Superintendent Douglas Carter on Monday.
        Werne is from Jasper and has a degree from VU in Law Enforcement Conservation and Bachelors from ISU in Criminology.  He's been at the Jasper post for 10 years since graduating from the State Police Academy. In 2010 and '11 he received a Life Award for leading the Jasper District in impaired driver arrests.
        Josh Greer is a Warrick County native from Boonville. He has a Criminology Degree from ISU and was assigned to the Evansville State Police post after graduating the academy in 2007.  He's a Crash Reconstructionist and a member of the Emergency Ordinance Disposal Unit.