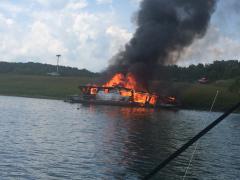 Conservation officers say a boat was destroyed by fire on Patoka Lake Sunday.
It happened at 4-pm when Paul Eckert of Jasper was operating a six foot house boat near the Patoka Lake Dam in Dubois County. Eckert heard an explosion from the engine department and the fire ensued. A nearby boater was able to get Eckert to safety.
The boat and its contents were deemed a total loss with an estimated value of $90,000. The vessel was partially submerged in the water and will be removed soon. The accident is still under investigation as its unknown what caused the explosion.