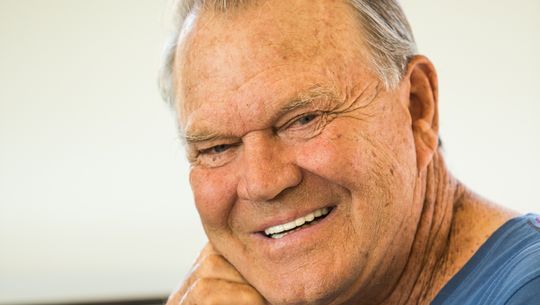 (NETWORK IN)  Calling Glen Campbell the "Rhinestone Cowboy" or "country singer Glen Campbell", puts limits on a man who had very few musical limitations. Musically, he was arguably as good as Eric Clapton on the guitar. He even introduced Cream on the Glen Campbell Good Time Hour in 1968.
He was a Beach Boy and toured with The Champs, who had the hit "Tequila". He was in the band after that 1958 instrumental.
Campbell was a member of the Wrecking Crew, a group of ultra talented studio musicians who played on tons of records in the 1960s and 70s. If producers were looking for great musical hooks, and near perfect playing, they'd hire the Wrecking Crew. You can hear Campbell on hits by The Monkees, Sonny and Cher, Gary Lewis and the Playboys, Paul Revere and the Raiders, Pet Sounds by the Beach Boys, and even Frank Sinatra.
Campbell's teaming with Jimmy Webb was perhaps his greatest contribution to pop music. He put voice to songs like "Wichita Lineman", "By the Time I Get to Phoenix", and "Highwayman (years before the country supergroup featuring Willie Nelson, Johnny Cash, Kris Kristofferson and Waylon Jennings-yes, that Highwayman).
Yes, his biggest hit was "Rhinestone Cowboy" in 1975. But, that song hardly defines Campbell's long career, which may not have included many hits in the later decaeds, but did see him playing sell-out shows around the world.
Campbell was the first artist to play Market Square Arena, the day it opened in Indianapolis in 1974. He graced the space even before the Pacers.
He performed a version of "Back Home Again in Indiana" in 1973 on "The Tonight Show" with Johnny Carson.
Campbell's last show in Indiana was June 10, 2012, at the Murat Theater in Indianapolis. It was part of Campbell's Goodbye Tour. He stopped performing publicly at the end of the tour and died of Alzheimer's Tuesday in Nashville.