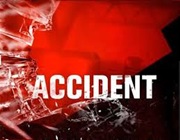 A few incidents investigated by local law enforcement agencies yesterday and overnight:
 The Washington City fire Department responded to a complaint of fire last night.  That  call came in a around 7:44 pm.  The caller said there was a fire at 1406 North Street in Washington that  smelled like rubber, or plastic.  Fire fighters responded and extinguished the exterior fire within a matter of a few minutes.
Washington Police responded to a two vehicle accident yesterday afternoon at around 11:16 a.m.  near the intersection of 50 and 57.  Jeff Ellinger of Washington was operating a Dodge truck and attempting to exit the Circle K parking lot to proceed North on 57 when he failed to see a 1995 Chevy driven by Patrica Fox.  The vehicles collied but neither driver was injured.  Ellinger was cited at the scene for having a false or fictitious registration. 
The Daviess County Sheriff's department investigated a one vehicle accident on Highway 57 north last night around 7:56 p.m.  Responding to the call deputies discovered a 2004 Ford  Ranger in a ditch near the intersection of hwy 57 and county road 225 North.  The truck was operated by 18 year old Dylan Grub of Washington.  Grub told the deputy he was headed north of 57 when he hit a wet patch, hydroplaned, and lost control.  The truck rolled once and landed on its wheels.  An ambulance was called but Grub signed a release declining medical treatment.