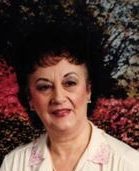 Virginia "Jenny" Bush, 89, of Washington, went to her Heavenly Home on July 5, 2017 from Willow Manor of Vincennes. She was born on October 16, 1927 to Chester and Esta (Dayton) Lamb in Washington, IN. Jenny attended Washington High School. She retired as a QMA at St. Vincent Hospice of Indianapolis. She also worked at Uniroyal for several years. Murphy's Dime Store was her first job. Jenny enjoyed flowers, reading, going to craft shows, and she liked going out to eat. She had a porcelain doll collection and loved watching Dancing with the Stars.
Jenny is survived by her children Cheryl Clymer (John), and Paula Powers by her first husband Paul Chapman (deceased), and her son Bill Bush, Jr. by her second husband Bill Bush Sr. (deceased), also grandchildren Michelle Wiscaver, Steven Brucken, Kelly Holloway (Doug), and Jeff Smith; six great grandchildren; seven great-great grandchildren; and siblings Richard Lamb (Cleta) and Delores Beeker. Jenny is preceded in death by her parents; brother William Lamb.
A Graveside Service will be held for Jenny on July 8, 2017 at 11am at Oakgrove Cemetery, 2372 Oakgrove Rd, Washington, IN 47501. Online condolences may be made at www.gillsince1872.com.