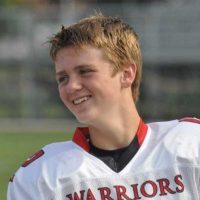 Jacob Carl Williams, 15, of Oaktown, passed away Friday June 30, 2017. He was born on July 19, 2001 in Terre Haute, Indiana to Craig and Kim (Haag) Williams.
Jacob would've been a sophomore at North Knox High School where he had participated in baseball, basketball, FCA, Student Council, and Spanish Club.  Jacob attended the Mariah Creek Christian Church and enjoyed snow skiing, playing with his dog Leo, hanging with his friends, and loved searching the internet for the latest shoes.
His life on earth may have been short but his impact will be long lasting. He loved God and was not ashamed to let God's light shine through him. His prayer would be for all who knew him to live their lives for Jesus! #livelikejacob
Surviving are his parents at home, Craig and Kim Williams, his two sisters at home, Megan and Claire Williams; his grandparents, Mike and Phyllis Haag of Vincennes, and Sam and Patty Williams of Oaktown; his aunts and uncles, Russell and Mandy Haag, Kristen and Kyle Glass, Sheila and Pat Herman, and Eric Williams; and his first cousins, Ethan Haag, Shelby Haag, Tessa Haag, Ava Glass, Zoey Glass, Jude Glass, Caroline Herman, Kathryn Herman, and Thomas Herman.
A Celebration of Jacob's Life will be on Thursday July 6, 2017 at 10:30 am at North Knox High School with Pastor Matt Hoffman and Dr. Darrell Bobe officiating with burial to follow in the Morris Chapel.

  

Visitation will be from 2-8 pm Wednesday at North Knox High School.

  The family requests that you wear your favorite sports team shirt for the funeral and visitation. In lieu of flowers, the family requests donations may be made to the Jacob Williams Scholarship Fund