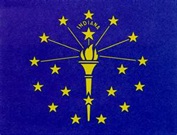 Former officer pleads guilty in school kickback scheme.  The opioid crisis has apparently increased the rate of pharmacy robberies.  Indiana Senator Joe Donnelly talks about new VA law…
(AP) Ex-deputy charged in kickback case agrees to plead guilty
A former sheriff's deputy charged in a kickback scheme that cost the Vigo County School Corp. over $80,000 has agreed to plead guilty.
Documents filed in federal court Friday show Frank Shahadey agreed to plead guilty to charges of wire fraud and theft of government funds.  The former school security liaison was indicted in December along with Franklin Fennell, who handled facilities and transportation support for the school district.  Prosecutors say they took kickbacks from a contractor over 2½ years.  Under the agreement, Shahadey would face a maximum prison time of up to 20 years for wire fraud and up to 10 years for theft. A judge must sign off on the deal and determine his sentence Shahadey also has agreed to pay restitution.
---
(NETWORK IN)  Human Center Renovations
It's been the site of many events in Terre Haute since in opened 44 years ago. Now the Hulman Center might get a long deserved upgrade.  On Wednesday members of the Capitol Improvement Board in Terre Haute got to see proposed plans, for a $75 million renovation of the venue. That money would have to be raised by the city, as well as Vigo County and Indiana State University, who leases the Hulman Center as the site for Sycamore basketball games among many other events.  The project would essentially expand the arena to hold more people as well as give it a more modern look. It will still be a while before the board comes to a decision to either move forward with the project or turn it down.
---
(AP) Crackdown on opioids has increased pharmacy robberies
When Indiana cracked down on the opioid crisis, it accidentally helped spark a wave of pharmacy robberies, eventually reporting more robberies than any other state.  
The frequent holdups show how the opioid epidemic shape-shifts to evade new obstacles. Dealers and those struggling with addictions quickly adapt to new regulations and law enforcement tactics.  
Officials say prescription limits Indiana imposed starting in 2013 helped create the crime wave by prompting some people who misuse opioids to rob pharmacies. They mostly targeted stores in Indianapolis.  
Pharmacies and police are fighting back. Pharmacy chains have installed time-release safes that force robbers to risk arrest by waiting.  
Indiana had 651 pharmacy robberies between 2009 and 2016. That was more than the 597 recorded by No. 2 California, which has six times the population.
---
(NETWORK IN)  Senator Donnelly reacts to VA law
Indiana Senator Joe Donnelly says a V-A bill signed into law Friday by President Trump will bring needed change to the agency.  The law was prompted by news reports of long waits at V-A hospitals and workers falsifying records to cover them up. It makes it easier to fire employees for misconduct, and makes permanent a whistleblower protection office created during the Obama Administration.  The law also allows the V-A to rescind employee bonuses for poor performance or misconduct. And the V-A can go outside normal civil service hiring procedures, a step Donnelly says will make it easier to bring in people with private-sector health care management experience.  Donnelly says the V-A needs to be more willing to listen to ideas from frontline employees for making its hospitals run better.  The bill passed the Senate on a voice vote and passed the House 368-55. Representative Andre Carson (D-7th) was the only member of Indiana's House delegation to vote no.