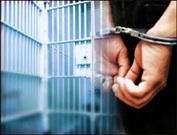 -An Odon woman is facing drug possession and trafficking charges.  Indiana State Police arrested 36-year-old Kristi Honeycutt on a warrant overnight.  She's charged with dealing and possession of a schedule-4 drug, possession of meth, tampering with evidence, trafficking with an inmate and obstruction of justice.  No bond was set at the Daviess County Security Center.
-The Daviess County Sheriff's Department arrested 31-year-old Dee St. Juste of Evansville on Friday.  Was wanted on a warrant for failure to return to lawful detention.
-A Vincennes man was arrested on a probation violation warrant at 5:25 last night. Police took 36-year-old Robby E. Lewis into custody at 9th and Nicholas.
-Brian Richardson, 47, was booked into the Knox County Jail at 4:18 this morning after being arrested by Bicknell Police.  He's charged with operating a vehicle while intoxicated and possession of marijuana.