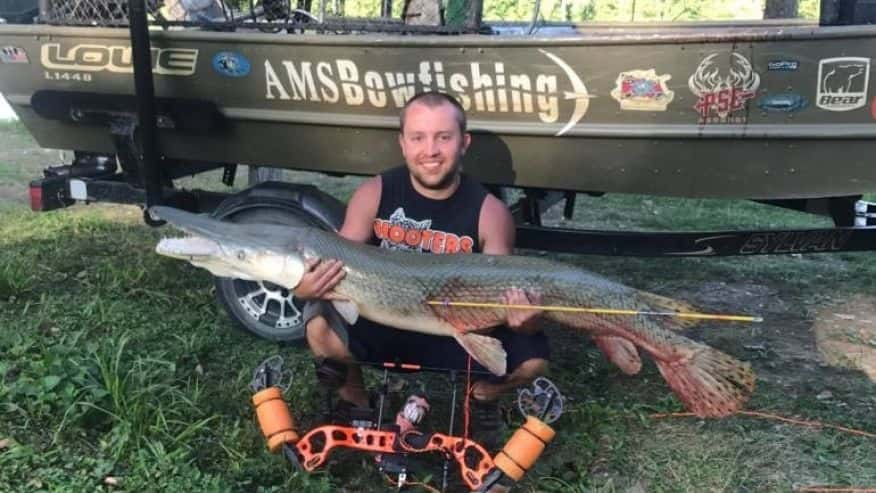 A rare alligator gar that measured more than 5 feet long when it was caught in southwestern Indiana likely originated outside the state.
Kentucky Department of Fish & Wildlife biologist Stephanie Brandt says in a release Friday that the gar may have been stocked from a restoration program Kentucky started eight years ago.
A microwire tag was imbedded in the fish. Brandt says the gar likely was 10 years old and released in 2009 or 2010.
The Indiana Department of Natural Resources says a bow fisherman, Jake Jackson of Mount Carmel, Illinois caught it legally in the White River on June 1. The fish measured 63 inches and 55 pounds.
It was the first alligator gar verified by Indiana state biologists in recent history. Indiana is at the northern edge of the alligator gar's historic range.
---
The following is the official news release from the Indiana DNR…
Angler's alligator gar likely came from Kentucky
The origin of an alligator gar taken earlier this month by an Indiana bow angler has been positively identified as a stocked fish, likely one from a restoration program Kentucky started eight years ago.
"It looks like it's one of our fish," said Stephanie Brandt, a biologist with the Kentucky Department of Fish & Wildlife.
The clues were a microwire tag embedded in the fish and the absence of a pit tag some other states use in in combination with microwires.
"By process of elimination and close proximity to our waters, that's what it looks like," Brandt said.
From the fish's size – 63 inches long and 55 pounds – she said it likely was a 10-year-old fish released in 2009 or 2010.
Kentucky has a partnership with the U.S. Fish & Wildlife Service to restore alligator gar, starting with fry acquired from the Private John Allen National Fish Hatchery in Mississippi and reared at Kentucky hatcheries before they are released into areas with suitable habitat.
The fish taken by the bow angler on the White River in southwest Indiana was not large by alligator gar standards.
There are reports of alligator gar weighing over 300 pounds, but the International Game Fish Association and the National Freshwater Fishing Hall of Fame both list the world record caught on rod-and-reel as a 279-pounder taken from the Rio Grande River in Texas in 1951.
A 327-pound alligator gar taken in Mississippi in 2011 was not eligible for record consideration since it was caught in a commercial fisherman's net.
Indiana is on the northern edge of historic range for Alligator Gar, so the fish taken here is considered a rare find. Indiana DNR fisheries biologists who regularly conduct surveys on large rivers haven't found Alligator Gar in the last 30 years.
Common gar species in Indiana are longnose, shortnose, and spotted.
According to Ken Schultz's Fishing Encyclopedia, an alligator gar is described as having a long, cylindrical body covered with heavy, diamond-shaped scales. Two characteristics that distinguish alligator gar from all other gar species is a broad, flat head and two rows of teeth in the upper jaw.
Schultz writes that alligator gar spawn in the spring and early summer in shallow bays and that a female can produce as many as 77,000 eggs at once.