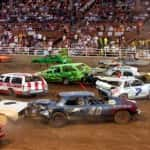 John "Doug" Lowe, 46, of Decker, passed away on May 3, 2017 at his residence.
He was born July 6, 1970 in Mississippi to John Henry and Elizabeth (Schatz) Lowe.
Doug worked at Shouse Sawmill in Decker and enjoyed working on cars, especially for the demolition derby.
Surviving are his father of Florida; his children, Caitlyn Lowe, Alexis Lowe, Gabrielle Lowe, Megan Lowe, Morgan Lowe, all of Vincennes, and Daniel Decker of Bicknell; his brothers and sisters, Sue Keysor of Saginaw, MI, Sarah Schatz of Decker, Brenda Lane of Guthrie, OK, Terry Lowe of Ohio, Jerry Lowe of GA, Lynn Young of Decker, Willie Lowe of Guthrie, OK, Floyd Lowe of Princeton, DJ Schatz of Decker and Donald Schatz of Decker.
Preceding him in death were his mother, and a sister, Jody Davis.
Graveside services will be held at Noon on Tuesday May 9, 2017 at Memorial Park with Rev. David Rottet officiating. Friends may visit with the family at the cemetery from an hour before the service at the cemetery. Online condolences may be made at www.goodwinfamilyfh.com