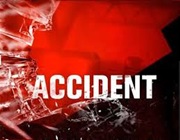 Teen girl's car turns over…Pike County man wrecks his Mustang…
-The Daviess County Sheriff's Department responded to an accident at 3:02 yesterday afternoon on Daviess County road 1450-North hear 1100-East near Odon.  16-year-old Shelby Taylor of Washington was driving an '05 Chevy. She was making a right curve and said the vehicle started to bounce.  She slid off the road, down a ditch and the vehicle turned over on its passenger side.  She was wearing a seat belt and was not injured.
-At 4:08-pm on Sunday, accident reports state that 20-year-old Logan Grannan of Petersburg was driving on US 50-West approaching Cindy Kay Drive.  He lost control of the '01 Mustang and the vehicle spun around and the rear of the car hit a tree.  He was not injured.