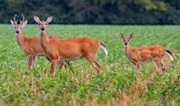 The 2016 Indiana White-tailed Deer Summary, a comprehensive report on deer management in the state, is now available on the DNR website.
The report contains information on deer hunting, use of depredation permits, deer-vehicle collisions, and disease surveillance efforts.
In 2016, hunters harvested 119,477 white-tailed deer in Indiana. This is a 4-percent decrease from the 2015 harvest of 124,769 deer.
Harvest information by equipment type and sex can be found in the report. Also, harvest numbers, antlerless quotas, and hunter attitude information is included for each of Indiana's 92 counties.
Harvest numbers exceeded 1,000 deer in 58 counties and 2,000 deer in 14 counties.
The 10 counties with the highest harvests were: Harrison, Noble, Franklin, Washington, Steuben, Parke, Dearborn, Lawrence, Switzerland and Greene.
The state issued 311 deer depredation permits statewide in 2016, with an average of 13 deer authorized per permit and an average of five deer taken per permit. Average reported percent of crop damage was just more than 25 percent.
The number of deer taken with depredation permits represents around 1.3 percent of the total deer taken in Indiana, with 1,556 deer harvested.
Deer-vehicle collisions across Indiana were down nearly 9 percent from 2015, with 14,021 collisions in 2016.
Disease surveillance for deer included monitoring for epizootic hemorrhagic disease (EHD), chronic wasting disease (CWD) and bovine tuberculosis (bTB).
Bovine tuberculosis monitoring and surveillance was conducted in Dearborn, Fayette and Franklin counties near an outbreak on a cattle farm.
The entire report is at deer.dnr.IN.gov under the "Deer Management" heading and "2016 Indiana White-tailed Deer Summary" subheading.
To view all DNR news releases, please see dnr.IN.gov.