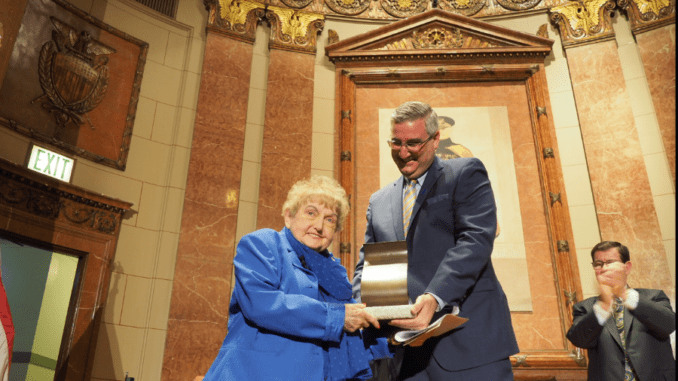 photo from Oline Warsaw

(AP) Indiana's governor praised Holocaust survivor Eva Mozes Kor's mission of forgiveness as he awarded her the state's highest honor.
A crowd of a couple hundred people applauded as Kor received the Sachem (SAY'-chem) Award during a Thursday ceremony in Indianapolis.
Kor founded the Children of Auschwitz Nazi Deadly Lab Experiments Survivors museum in Terre Haute in 1985 and has since championed forgiveness for the Holocaust atrocities.
The 83-year-old Jewish native of Romania was sent in 1944 to the Auschwitz concentration camp, where most of her family was killed. Kor and her twin sister survived, but were subjected to inhumane medical experiments before their liberation in 1945.
Gov. Eric Holcomb said Kor's life proves there are no limits to forgiveness and human decency.