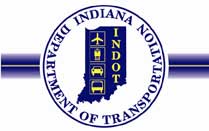 The INDOT sub-district office on US 41 south of Vincennes is the site of an open house tonight.      The event welcomes public comment on future construction projects and is one of six similar meetings all over Indiana this spring.  Attendees can get information and comment on INDOTS 4 year Statewide Transportation Improvement plan.  The plans start this July and last through 2021.
The Washington Times Herald  reported that a project that might be talked about tonight but is not yet funded is Business 50 in Washington. It's not on an 18 month list for bid letting could be be on a list in the next four years.   Engineers have said INDOT is investigating the condition of the road.
Washington Mayor Joe Wellman told us this week that he has more meetings scheduled centered on Business 50..
The Mayor said the meetings will mainly deal with funding a project.
There are 16 projects in Daviess County on INDOTS 4 year plan. They will be available for review and comment at the open house.