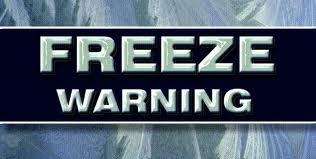 The weather roller coaster continues….after 60 to 70 degree temps this week, we head back below freezing.
The National Weather Service has issued a freeze warning in effect from 7-pm tonight to 1-pm Sunday.  Daviess, Knox, Martin, Greene, Sullivan, Pike, Gibson and Dubois Counties are all in the warning area.
Officials say trees, plants and flowers that have bloomed could be damaged or killed as temps drop into the 20's in the overnights.
Again a freeze warning in effect 7pm tonight through 1-pm on Sunday.
For information on protecting plants and vegetation follow the link……Extension Specialists advise monitoring plants in colder weather