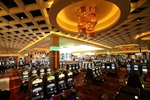 A Terre Haute area casino has some high hurdles to clear.    
GOP Senate leader David Long says a company hoping to open a casino near Terre Haute likely will face an "uphill battle" in the Legislature.
The proposal sponsored by state Sen. Jon Ford, R-Terre Haute, would authorize the creation of a supplemental gambling site in the city by the owner of a riverboat operating at Rising Sun in southeastern Indiana.
House Speaker Brian Bosma has previously signaled that he's not in favor of expanding gambling to Terre Haute.
Long says a change would affect everyone in the "saturated" industry. He says there's much more competition now than there was 10 years ago. Also, he says, lawmakers are interested in seeing the French Lick casino in southern Indiana succeed.