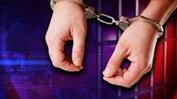 DAVIESS COUNTY
-31-year-old Michael K. Murphy of Vincennes was arrested in Daviess County on a petition to revoke a suspended sentence and failure to appear. Bond was set at $52,500.
KNOX COUNTY
-A drug investigation at 2:55 this morning resulted in the arrest of 34-year-old Mariea Louella Tate of Vincennes. She was arrested at South 13th and Prairie for felony possession of a hypodermic syringe and misdemeanor counts of possession of a controlled substance, marijuana and paraphernalia.
-Vincennes Police picked up a Lawrenceville, Illinois wanted on a Knox County Warrant. Around 8 am Wednesday Police located 29-year-old Michael Chappell in the area of 14th and State Streets. Chappell was wanted on a failure to appear warrant.
-34-year-old James Vanderveer was arrested by the Knox County Sheriff's Department overnight. He's charged with operating a vehicle while intoxicated with a controlled substance, and possession of marijuana. He was booked in about 20 minutes past midnight.
-30-year-old Christopher Smith was arrested yesterday for burglary.
-Caleb Gallion, was arrested yesterday in Knox County on a failure to appear warrant.
-30-year-old Timothy Sutton was jailed for driving while suspended yesterday.