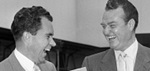 pictured: Richard Nixon and Red Skelton (image from Getty Images)
….that's the title of a new exhibit opening today at the Red Skelton Musuem of American Comedy.
In recognition of President's Day later this month, Museum Director Anne Pratt says they've put together photos, personal letters and other artificats of Red's relationship with American President's over the course of his career.
Pratt says Red performed at the White House many times for Birthday Events and Independence Day celebrations.
Among the personal letters is one from Richard Nixon thanking Skelton for his willingness to perform during troubled times when the country needed to laugh.
There also photos of Red and other celebrities performing for Presidents and their families from Franklin Roosevelt up to Bill Clinton.
On February 20th, Pratt says the public is invited to attend a special celebration from 5-to-7 pm at the museum commemorating President's Day. Refreshments will be served as part of the festivities.