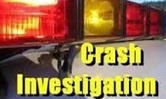 Names were not released in a 9:51-am accident on Friday on i69 near the 54 mile marker
A Ford SUV was northbound and for an unknown reason, crossed the median into the southbound lane, continued off the west side of the road, up an embankment, became airborne and rolled onto it's top.  A male driver and male child were flown by Air Evac to St. Mary's in Evansville.
The crash remains under investigation.