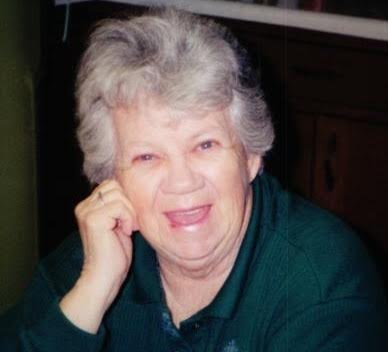 Carley Marie Leonard, 92, of Washington, IN went home to her heavenly reward at 12:30 p.m. Monday with her family by her side.
Carley was born on June 12, 1924 in Washington, to the late Merle David and Edith May (Burton) McLemore.
Carley worked at U.S. Rubber Company in Washington at a young age.  She was a homemaker raising five children and enjoying time spent with her Grandchildren and Great – Grandchildren over the years. Carley enjoyed life and living it to the fullest. Her hobbies included reading, cooking, and traveling the country on Amtrack with her husband. She also enjoyed spending the winters in Florida. Her love and talent of cooking and baking will always be remembered by her family.She is preceded in death by her husband of 69 years; Melvin Floyd Leonard, whom she married on August 24, 1940. Leaving behind to mourn her passing, but celebrating the life she lived, is her devoted family, which include; two daughters, Nan and Larry Gaither and Jill and Chuck White, all of Washington, three sons, Jack and Carol Leonard, Rex and Vicki Leonard, of Washington, and Gary and Barbara Leonard of Jasper, Indiana; 18 Grandchildren, 32 Great Grandchildren, and 3 Great – Great Grandchildren; a sister Virginia Sessions, of Florida, several nieces and nephews,and a host of friends. She is also preceded in death by her parents,three  sisters, Josephine McRoberts, Marguerite Fox, and Phyllis McLemore; two  brothers, Leroy and Arthur McLemore, and a Great Grandson, baby David Klene. A celebration of Carley's life will be held at 11:00 a.m. Friday, September 30, 2016 in Gill Funeral Home with Rev. Tim Baxter officiating. Interment will follow in Oak Grove Cemetery. The family will receive friends and family from 4:00 – 8:00 p.m. Thursday at the funeral home, and from 9:00 a.m. until time of service Friday.Online condolences may be made at www.gillsince1872.com.