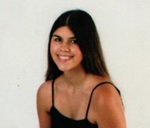 Aubrey N. Myers, 28, of Washington, IN passed away September 26, 2016 at her residence.
Born July 23, 1988 in Linton, IN, she was the daughter of Carl E. and Janet S. (Gilliatt) Myers.
Aubrey was a 2007 graduate of Washington High School, and a 2009 graduate of Vincennes University earning her A.S. in Business. She served as Youth Director at the Carnegie Library in Washington for many years. She was of Christian faith. She is survived by her parents, Carl and Janet Myers; two sons, Damien and Daniel Myers; a brother, Jordon Gilliatt;  her companion, Nathaniel Fidler; Maternal Grandparents, Don Gilliatt and Sue Dawson; Paternal Grandmother, Pat Myers. She was preceded in death by her Paternal Grandfather, George Myers.  Funeral services will be 3:00 p.m. Sunday, October 2, 2016 in Gill Funeral Home. Friends may call from 1:00 p.m. until time of service Sunday at the funeral home. Interment will follow in Kilgore Cemetery near Odon. The family requests memorial contributions be made to; The Carnegie Library Children's Department. Online condolences may be made at www.gillsince1872.com.