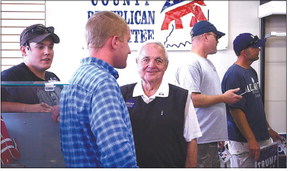 The Trump/Pence campaign made a swing through Southwestern Indiana yesterday making stops in Daviess and Knox Counties. 
     (photo of Rex Early at Republican headquarters in Washington from the Washington Times-Herald)
According to U-S-A Today, Donald Trump is leading right now in Indiana by nine percent– over democrat Hillary Clinton.
But Trump's State Campaign Chairman Rex Early says they are downplaying the poll. Early says nothing will be decided until November 8th.
Early, a Vincennes native was happy to be back in the area Thursday. Officials with the campaign wanted to say thank you to local donors and organizers backing Donald Trump.
They also brought with them yard signs, campaign stickers and other political merchandise to hand out as well as answer any questions voters might have about Trump's stance on any issues.