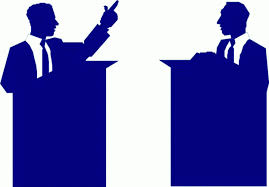 -Rep. Todd Young and former governor and former U.S. Sen. Evan Bayh will debate in each other Oct. 18.
That date was announced Thursday by the Indiana Debate Commission.
Libertarian Lucy Brenton will also be a part of the debate.
The televised debate, which will also be broadcast on radio, will be at the WFYI studios in Indianapolis. It will air for one hour, starting at 7 p.m.
The Debate Commission is also looking to schedule a second debate for Senate and has already schedule three for governor, which will feature all three candidates (John Gregg, Eric Holcomb and Rex Bell). The first of those is Tuesday at 10:30 a.m. at North Lawrence High School. The second is Oct. 3, 7 p.m., from Indiana University.
"We need debates because it's an essential part of the electoral process," said Keith Robinson, who serves on the Debate Commission. "But it's even more important now, this year, because both the incumbent governor and senator are not seeking re-election."
The election is Nov. 8. The new governor and senator take office in January. Gov. Mike Pence is running for vice-president and Sen. Dan Coats is retiring.
"Voters need to get to know the candidates and their positions on issues," said Robinson. He said the Debate Commission was formed to serve voters in a non-partisan, non-profit way.
"We're committed to putting voters first, is our motto."
"The campaigns have been cooperating with us as we have been working toward scheduling two debates in recent weeks," said Dan Byron, president of the Debate Commission. "We are confident we will accomplish that with the candidates, who understand the need for voters to learn their positions on domestic and international affairs so important to Indiana and the nation."
As with three gubernatorial debates already scheduled, members of the public can submit questions they would put to the candidates. Questions can be submitted to the IDC through its website at http://indianadebatecommission.com. The debate commission will select questions on a variety of topics for use in the debates.