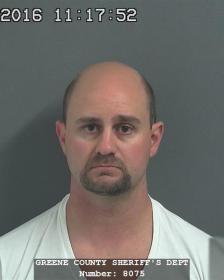 Nicholas Powell was booked into the Greene County Jail on Wednesday.
A Greene County man was jailed at 10:30-am yesterday for a level 5 felony count of child solicitation and for a level 6 felony charge of dissemination of material harmful to a minor.
The Greene County Sheriff's Department report that Nicholas L. Powell of Worthington was arrested with assistance in the investigation from Bloomington Police
Authorities say Powell was employed as a paramedic by IU Health.
The Greene County Daily World Greene County Daily World reports that probable cause affidavits show the charges stem from Powell allegedly sending inappropriate photos via text message to a teenager.