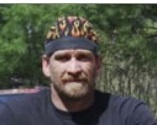 Christopher Edward "Chris" Kane, 47, of Washington, passed away at 5:13 p.m. Friday at his residence.

He was born Oct. 13, 1968, in Beech Grove, to Frank Sr. and Alice Louise (Mahley) Kane.
He was an avid NASCAR fan and had been a successful drywall contractor with his father. After his father's death, Chris continued on with the business until his health failed.
He is survived by two daughters, Nikki Jo Kane of Dayton Beach, Florida, and Alicia Marie Kane of Velpen; two sons, Craig Hedrick of Washington and Jordan Messmer of Velpen; three brothers, Frank Kane Jr. of Loogootee, Jesse Kane and Michael Kane, both of Washington; four grandchildren; and nieces and nephews.
He is preceded in death by his parents.
Funeral services will be at 11 a.m. Thursday at Ed Lee Mortuary. Burial will follow in St. Patrick Cemetery in Corning. Visitation will be from 9 a.m. to 11 a.m. Thursday at the mortuary.