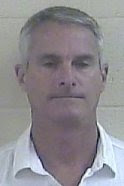 Charges have been formally filed against a Jasper doctor for alleged offenses involving the narcotic drug oxycodone.
Michael S. Love, 49, 1895 Gun Club Road, was booked into the Dubois County Security Center at 4:34 p.m. Monday on a Dubois Superior Court warrant charging him with a Level 2 felony count of dealing in a narcotic drug and a Level 5 felony count of illegal possession of a narcotic drug.
Love has an orthopedics and sports practice in Jasper.
Charging information from the Indiana State Police alleges that, on April 18, Love financed the delivery of at least 10 grams of the narcotic drug oxycodone hydrochloride and, on April 20, illegally possessed at least 5 grams but less than 10 grams of the drug.
Love posted bond soon after his booking. He made a brief initial court appearance this morning with his Jasper attorney, William Kaiser, who entered a preliminary plea of not guilty on his client's behalf.
The court scheduled Love's next appearance — a pre-trial conference — for Sept. 6.
If found guilty, the maximum penalty for a Level 2 felony is a term of incarceration of 10 to 30 years and a fine of up to $10,000. The maximum penalty for a Level 5 felony is a term of incarceration for one to six years and, once again, a fine of up to $10,000.
This story will be updated when additional details are available.