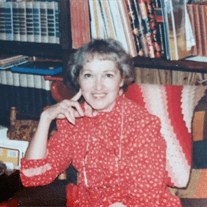 Jewell H. Sherfick, 83, of Terre Haute, formerly of Shoals, passed away at her home on August 11, 2016 at 2:48 a.m.
Born in Martin County, Indiana on October 29, 1932, she was the daughter of the late Felix Tolbert and Violet (Sanders) Fishel. On August 28, 1948 in Shoals, Indiana she was married to George Sherfick by the Justice of the Peace, and they celebrated 67 years together.
Jewell retired after 32 years from the accounting department of the Benis Company in Terre Haute, and she enjoyed sewing, crocheting and being with her family.
She is survived by her husband, George S. Sherfick Sr of Terre Haute
Son, George S. "Sam" Sherfick Jr and his wife Esther L. Sherfick of Shoals; granddaughter, Dawne Michelle Miles of St. Louis, Missouri; sister, Betty, and her husband, Gene French of Shoals; brother, Donald Tolbert of North Vernon; Aunt Alma Allen of Fort Meyers, Florida; nieces; nephews; and special friend, Jennie Bigham of Terre Haute.
She is preceded in death by her parents, one sister, Irene Kimball and one brother Robert Norman.
Friends may call from 4-8:00 p.m. on Friday, August 12, 2016 at the Queen-Lee Funeral Home in Shoals, and a funeral service will be held at 1:00 p.m. on Saturday at the funeral home. Burial will follow in Springhill Cemetery.
Condolences may be made on-line to the family at www.queenlee.com.
Expressions of sympathy may be made to Gentiva Hospice of Terre Haute. Envelopes will be available at the funeral home.