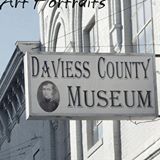 The Daviess County Museum was filled with guest Saturday evening as the Daviess County Historical Society celebrated the Museum's Grand Reopening.   Guests came from all over southern Indiana.   Ray Beeker, who drove from Bloomington to attend the event had this to say about the Museum's new look:
     The crowd visiting the museum found new displays telling the story of Daviess County, along with an updated decor throughout the Museum.   Becky Kremp, one of the leaders in the effort to update the Museum said volunteers were important:
Volunteers will continue to use

Monday

through

Wednesday

of each week to catalog artifacts and rotate exhibits of what representatives of the Indiana Historical Society says is one of the best collections for a county this size in the state.   
       Historical Society President Doug Dougherty said the turnout Saturday night was beyond his expectations.  Dougherty said the Museum plans to have rotating exhibits and reach out to all of Daviess County, just not Washington, perhaps with traveling exhibits.  Dougherty said anyone wanting to volunteer at the Museum can go to the website or call him.
     And now that the Museum is open, Dougherty says the public is welcome from 1-5
on Sunday
, and 10-5
Thursday
through Saturday.