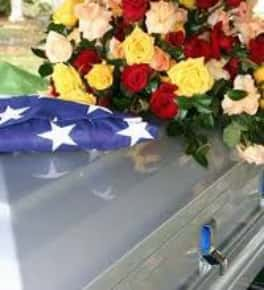 Jack K. Anderson, 87, formerly of Washington, died at 9:27 a.m. Saturday at Golden Living Center in Petersburg.
Born Feb. 28, 1929, in Daviess County, he was the son of John and Thelma (Dollens) Anderson.
A U.S. Navy veteran of World War II and the Korean War, he had worked at Naval Surface Warfare Center Crane for 1954 to 1971. He was a member of Eagles Lodge, Moose Lodge, VFW, and an American Legion life member.
He is survived by three daughters, Jacqueline (James R.) Baker of Washington, Shannon Colby and Angela (Mark) McCandless, both of Petersburg; nine grandchildren; 16 great-grandchildren; three sisters, Maxine Goodpasture of Tennessee, Donna Newkirk of Washington, and Norma Rose Noland of Millersburg; and one brother, Marvin Anderson of Roanoke, Virginia.
He is preceded in death by a granddaughter, Miranda Warner; a great-granddaughter, Aubrey Warner; a brother, Larry "Bo" Anderson; sisters Joyce Walls, Martha Burton and Clara Coffey; and his parents.
The funeral will be at 1 p.m. Wednesday at Poindexter-McClure Funeral Home, with Rev. Terry Fletcher officiating. Burial will be in Sandborn Cemetery.
Visitation is from 10 a.m. Wednesday until the time of service.