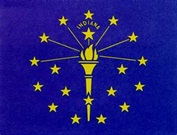 New Supreme Court member named, a chase in Indy with kids in the car, schools in Zionsville change start times
-PENCE APPOINTS SLAUGHTER
Gov. Mike Pence has named Indianapolis attorney Geoffrey Slaughter to the Indiana Supreme Court. Pence announced Monday he had chosen Slaughter from among three finalists selected in March by the state's Judicial Nominating Commission. Slaughter's appointment fills a vacancy on the five-member court and is Pence's first appointment to the cou
-ILLIANA EXPRESSWAY MAY BE BACK ON THE TABLE
The Indiana Department of Transportation has agreed to pay to make changes to an environmental impact statement to try to revive the proposed Illiana Expressway toll road project linking northern Illinois and northwestern Indiana. INDOT submitted a document April 25 in U.S. District Court in Chicago stating it had reached an agreement with the Illinois Department of Transportation to pay for the technical work to comply with the court's order on the expressway.
-ZIONSVILLE SCHOOLS CHANGES START TIMES
Wanting more sleep, it's the reason Zionsville Middle School students will start later next year thanks to a vote by the school board Monday night. About 3,500 people responded to a survey from Zionsville Schools about pushing back the start time and more than 70 percent said they were in favor of a change of some time. The CDC recommends middle schoolers not start before 8:30 a.m.
On Monday, the Zionsville School Board voted 4-1 to approve the following school start times beginning in the 2017-2018 school year:
Elementary: 8:00 a.m. – 2:30 p.m.
Middle: 8:45 a.m. – 3:45 p.m.
High school: 8:30 a.m. – 3:40 p.m.
-HIGH SPEED CHASE IN INDY
High speed chase with two toddlers in the backseat and a man and woman inside ended with the car flipped, and no one hurt last night in Indianapolis. Started with a traffic stop, driver gave cops his ID when he got stopped, then sped off eventually taking off on foot. He was stopped, no one was hurt and the reason he did it.. he had a warrant out for his arrest.
-BROWNSVILLE DOG ATTACK
Attacked by her own dogs, her son found his mom lying in a pool of blood, dead in her backyard Monday morning. Brownsburg police were called to Lola Endres home after her son found her, saying it looked as if one, if not both, English Bulldogs attacked her. Police said they think the dog attack brought on another medical event leading to her death. Police said one of the bulldogs had been with the family for three years. The other was a rescue animal with a history of biting people who'd only been with Endres for two weeks. An autopsy was scheduled for Monday evening to determine Endres' cause of death. Both dogs are being quarantined at the Hendricks County Animal Shelter.